Mobile Detailing Setups Richmond VA
Ultimate Mobile Detailing Setups
Take an inside look at some of our top-of-the-line mobile detailing setups that will kick start your mobile detailing business.
Mobile Detailing Setup - 3D Model
Mobile Detailing
Equipment Packages
When you order one of our mobile detailing equipment packages for installation, you can pick and choose the equipment you need! We provide a standard auto detail package, plus a list of recommended add-ons. You can call Ralda's Details to discuss your car detail plans for your business. We can help you determine which mobile detailing setup services you'll be providing and what kinds of mobile detailing equipment packages you'll need to fulfill your business.
Custom Mobile Detailing Package
Our Custom mobile auto detailing equipment package includes all the basics you'll need to start a successful auto detailing business.
Whatever your dreams for your small business, Ralda's Details can help with your mobile detailing set up! Give us a call or email today, and we'll consult with you about the services you plan to provide to your customers and the equipment you'll need!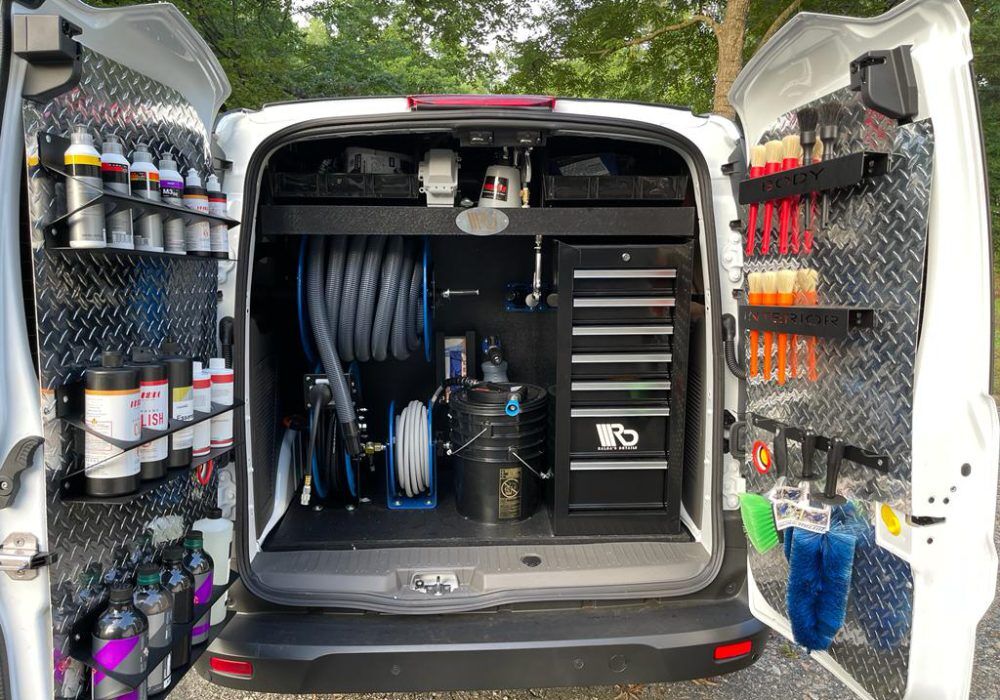 Custom Mobile Detailing Setups Richmond VA
Are you curious about the mobile detailing profession? A complete done for you mobile detailing setup may be the first step in your next career move! Some of our satisfied customers have been interested in doing their own mobile detailing, either as part of an existing business or as a new venture. Mobile detailing can be a satisfying full-time or part-time job with the opportunity to make a good living on your own time. Since auto detailing is done out of a trailer or skid, there are no zoning permits or building overhead to take care of. While it's hard work like any other job, it doesn't require as much upfront investment or training as some other businesses. You have the ability to make your own schedule. As a small family business that's grown over the past decade, we can't recommend it enough. Visit our About page to know more about our car detailing service company.
If you are interested, Ralda's Details can help you get started. We use our years of experience (and trial and error) to bring you the best mobile detailing setup in Richmond VA for your new venture or business. We'll work with you to build a custom setup that works for you. Whether you're building in a large trailer or a simple skid, we'll make sure you have the equipment, storage, and power for the type of auto detailing you to want to specialize in. Some business owners choose to specialize in detailing alone, but others also want to be prepared for customers who need paint correction Richmond VA or ceramic coating Richmond VA as well.
Whatever your dreams, we'll make sure you have the right setup! Contact us for a mobile detail setup today!