Ceramic Coating Richmond VA
Professional Ceramic Coating Richmond VA
Ralda's Details offers top-of-the-line ceramic coating Richmond VA. We use industry-quality Si02 coating that bonds with the existing paint on your car. This bond leaves your car with a beautiful glossy finish and durable protective ceramic coatings. This professional ceramic coatings treatment will last for up to 2-5 years, protecting your car from scratches, fading, dirt, water, and exhaust that can dull your vehicle's appearance shine. This professional treatment will last for up to 2-5 years, protecting your car from scratches, fading, dirt, water, and exhaust that can dull its shine.
Unlike basic detailing, ceramic coating Richmond VA must be done by a professional to be effective. In addition to the coating itself, our Ceramic Coating Package includes the necessary pre-coating clean and decontamination:
(click the '+' to expand)
– Cleaning, decontamination, and blow dry of exterior features. This includes paintwork, glass, emblems, plastics, and rubber features. We use chemical and Clay-Bar treatment to remove embedded grit and iron particles for a thorough clean.
– Single-stage correction to your paintwork to reduce or remove minor swirls, hazing, and/or paint defects
– Deep cleaning tires, wheels, and wheel arches and dressing tires to a satin finish
– Cleaning, drying, and dressing engine compartment top surfaces with 303 Aerospace Protectant
– Cleaning door jambs, trunk lid area, and gas cap, and any rubber boots or seals
protected with 303 Aerospace Protectant
– Cleaning of all exterior glass
– Deep cleaning of all carpets, mats, upholstery, leather and vinyl
– Stain-, dirt-, and liquid-resistant treatment applied to all carpets, mats, upholstery, leather, and vinyl
– Contact us today for an estimate on these extras!
We appreciate you removing all personal items from your vehicle before our arrival, including from the trunk. All detailing; ceramic coating services, paint protection film, and paint correction appointments are subject to change due to weather. We'll check the weather the day before to confirm or reschedule your appointment. Visit our About Us page to know more about our auto detailing company.
You can also visit our mobile car detailing Richmond VA page for more details.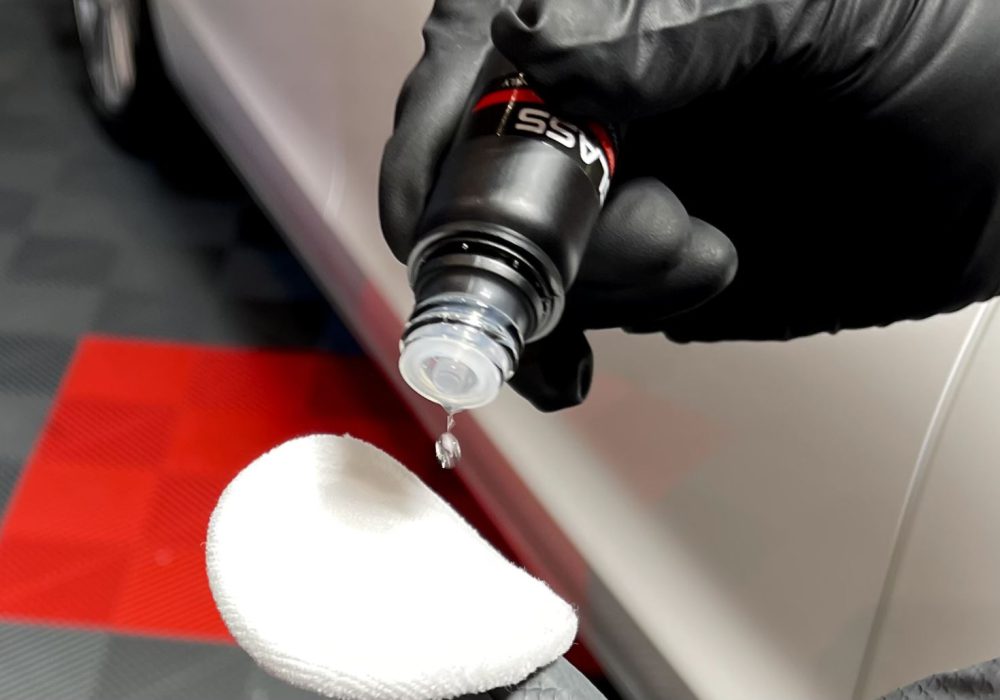 Is it worth it to get a ceramic coating for my vehicle?
A little maintenance and surface protection matters a lot in the life of your car. Over time, a well-cared-for car and an uncared-for car begin to look and perform very differently. Getting a professional auto ceramic coating Richmond VA treatment from Ralda's Details is one step to ensuring your car maintains its function, beauty, and value. Contact us for a free quote or fill up our brief contact form. Your car's paint begins to wear down as soon as you drive it off the lot. Daily exposure to things like sun, heat, exhaust fumes, dirt, and water can cause paint to fade and wear down. The special Si02 coating bonds with your vehicle's painted surfaces as a liquid then cures to be a durable, glossy cover. Once cured, ceramic coatings form a strong barrier against dirt, water, UV rays, and minor scratches that can cause damage and oxidation. Proper maintenance ceramic coating keeps your car protected against the elements for up to 2-5 years! Many drivers seek out ceramic coating for its beautiful appearance! Your car's paint tends to lose its new-car shine through exposure to sun and water. With ceramic coating services and auto detail from Ralda's Details, your car will look better than ever! Our customers love the deep, high-gloss coat that this type of service provides. Finally, an auto
ceramic coating Richmond VA
will help you maintain and protect the resale market value of your car should you ever resell it or trade it. You may not mind a few dings or scratches on your commuter vehicle. However, you want to preserve its value as much as possible by investing in some routine care!
Professional Mobile Detailing